Approximately one quarter of people over the age of 65 suffer from aortic stenosis of varying degrees. This condition, caused by a buildup of calcium on the aortic valve, leads to reduced blood flow, eventually causing symptoms such as shortness of breath, chest discomfort and fainting. Untreated, severe aortic stenosis could lead to death within two years.
The only treatment for aortic stenosis is valve replacement, but this procedure has been out of reach for patients who are too old or sick to undergo open heart surgery. Now there is a solution: transcatheter aortic valve replacement (TAVR). TAVR is a minimally invasive procedure recently approved by the Food and Drug Administration for patients at high risk for surgical procedures. The UHS Heart Institute began performing TAVR at UHS Wilson Medical Center in December 2014, and all patients treated so far are doing very well.
THE PATIENT EXPERIENCE
Leonard Williams of Kirkwood was the second TAVR patient at UHS, treated on the first day the procedure was offered. He had been diagnosed with a heart murmur 34 years ago, but had been asymptomatic. However, over the past year, Mr. Williams, a highly-functioning 87-year-old WWII veteran, became increasingly short of breath and fatigued, finding it difficult to mow his acre-and-a-half of lawn and bring in firewood — tasks he had previously taken pride in. Because of his age and history of a quadruple bypass, he was not a candidate for open valve replacement.
How TAVR works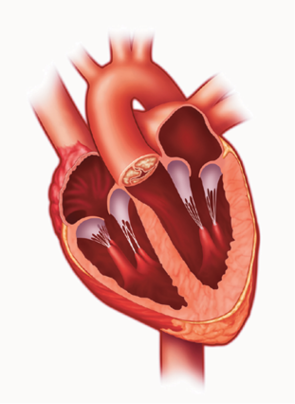 The aortic valve regulates blood flow from the left ventricle, the main pump of the heart, to the aorta and the entire body. A stenotic valve is stiff and does not open and close as well as it should.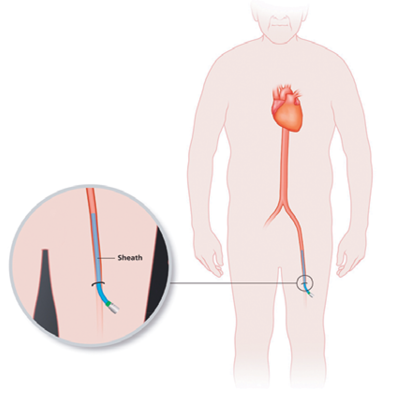 With TAVR, a catheter is advanced through a blood vessel in the patient's leg to the aortic valve. A balloon, a wire stent and an artificial valve are at the end of the catheter.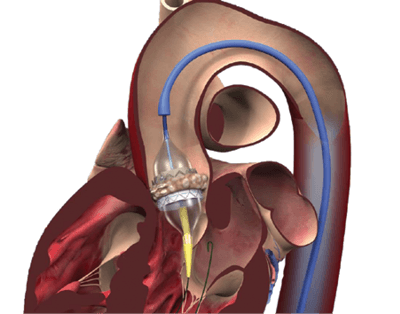 The malfunctioning valve is opened with a balloon, and the new valve is anchored into place. The catheter is then removed.
Kenneth Wong, MD, the UHS cardiac surgeon who had performed Mr. Williams' bypass in 2004, introduced his patient to Alon Yarkoni, MD, FACC, earlier in 2014. Drs. Yarkoni and Wong determined that Mr. Williams needed his aortic valve replaced, but due to his age and medical history, urged him to hang on until their team was ready to start performing TAVR in December. The wait, according to Mr. Williams, was worth it.
"I'm glad I could hold out until they got set up with this. It was just two little holes. It was like taking a nap in the afternoon and having my operation," says Mr. Williams. "Right away I felt better. I got more air and the aches in my shoulders and arms left me. They did a great job — I got to go home the next day!"
Dr. Yarkoni was thrilled with the outcome. "In Mr. Williams' case, recovery time was pretty negligible," he says. "He was awake and talking immediately after the procedure and out of bed that evening and walking the next day. I saw him in the office the next week and he looked great."
IT TAKES A TEAM
Dr. Yarkoni, a fellowship-trained interventional cardiologist who came to UHS in July 2014 as medical director of the UHS Structural Heart and Valve Program, was instrumental in bringing TAVR to UHS. He trained in the procedure during a fellowship at The Henry Ford Hospital in Detroit under world-renowned cardiologist William O'Neill, who is one of the pioneers of the procedure and was involved in its early U.S. clinical trials.
TAVR takes a team approach, with cardiologists specializing in interventional cardiology, cardiac surgery, cardiac imaging and cardiac anesthesia scrubbing in on the procedure. "It's quite an elaborate process, and utilizes a lot of teamwork from highly trained physicians," says Dr. Yarkoni.
UHS is fully invested in bringing TAVR to area residents. UHS Wilson Medical Center upgraded the technology in its Cardiac Catheterization Lab to accommodate TAVR procedures, and is currently building a second lab that will be used to perform TAVR as well as procedures that require both open and catheter-based approaches simultaneously, such as mitral valve replacement.
"Some of the most well-regarded healthcare organizations in the state have a TAVR program, and we are fortunate to have a program here at UHS now," says Dr. Yarkoni. "We are happy to be able to offer this treatment option to our patients."
GETTING CLINICAL
TAVR is just one of the treatment options available through the newly-opened valve clinic at UHS. The valve clinic, the first of its kind in the Southern Tier, brings together medical and surgical specialists to evaluate and treat patients with valve disease, using the latest protocols. The clinic offers newly- developed approaches such as balloon valvuloplasty, along with surgical valve repair and replacement, plus management with medications. It also coordinates cardiac rehabilitation and home care for its patients. Care is highly individualized to each patient.
Open Doors
Patients are referred to the valve clinic by their cardiologists. Get more information on the UHS Heart Institute.
"Our multidisciplinary heart valve team, comprised of surgeons and cardiologists, can develop treatment strategies that are best suited for each patient," explains Dr. Yarkoni. "These decisions can be quite complicated. We like to use videos and heart models to explain this condition and the various treatment options available."