Hospitals, including UHS, collect massive amounts of data. This data is used for many purposes, from reimbursement to research. It helps identify changing needs and trends in the community, and aids clinicians in understanding what the hospitals are doing well and where they need to improve. Cancer data is shared in a National Cancer Database, which allows easy comparison with national averages.
While each segment of data collected can impart several interpretations, James D. Hayes, MD, cancer liaison physician, offers his brief impressions on four charts about breast cancer diagnosis and treatment at UHS:
BREAST CANCER CASES DIAGNOSED AND/OR TREATED AT UHS

The increasing number of breast cancer cases diagnosed at UHS from 2004 to 2013 is consistent with the aging demographic of our area. That is, our population is becoming older. And more are choosing state-of-the-art care at UHS*.
BREAST CANCER FIVE-YEAR SURVIVAL REPORT

If you are diagnosed with Stage I or Stage II breast cancer and receive treatment at UHS, your chances of survival are as good as anywhere in the country.
STAGE OF BREAST CANCER DIAGNOSED 2000–2011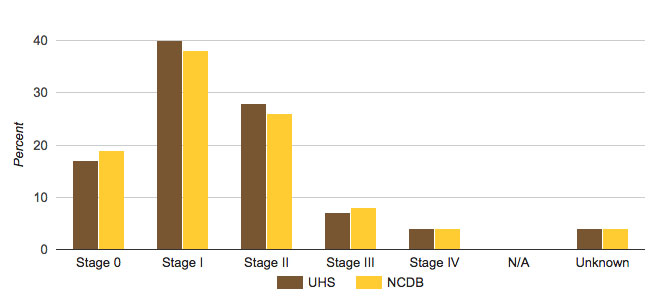 At UHS, we are making the initial diagnosis of breast cancer at the same stage as the most advanced cancer centers in the country. This indicates that patients can be sure that they do not have to leave the area to get the very best cancer care.
AGE GROUP BREAST CANCER CASES DIAGNOSED 2000–2011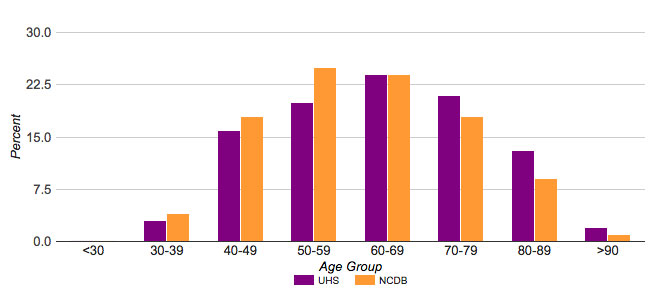 *The scientific collection of cancer data performed by the UHS cancer registry allows us to compare our local experience with the National Cancer Database (NCDB).