When a patient has signs of heart attack, UHS' rural hospital emergency departments are ready to stabilize him or her and expedite transfer to UHS Wilson Medical Center's Level 1 Trauma Center. But much of the time, cardiac care needs can be expertly addressed close to home.
New cardiologists serve Johnson City, Delaware County
Two new specialists have joined UHS Cardiology at Wilson Square in Johnson City, and will be making weekly trips to provide on-site consultations and follow-up care at UHS Delaware Valley Hospital as well. Matilda Yetunde Akinyemi, MD, MS, and Keyoor Patel, DO, joined UHS in December.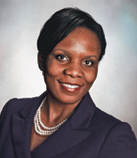 Dr. Akinyemi recently completed a general cardiology fellowship at the University of Texas Health Science Center at Houston. She is board-certified in internal medicine and echocardiography.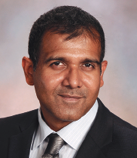 Dr. Patel comes to UHS from Southside Hospital in Bayshore, N.Y., where he worked following a cardiology fellowship at the Milwaukee Heart Institute. Dr. Patel is board-certified in internal medicine and echocardiography, and has experience working in community health in New York City and India.
The UHS Heart Institute brings world-class cardiology services to patients throughout the Southern Tier. Now, patients in the Delaware County area can see one of two new cardiologists who travel weekly to UHS Delaware Valley Hospital (see sidebar). Diagnostic procedures such as stress testing, echocardiograms, and Holter and event monitoring are also available at this location.
Additionally, cardiologist James O'Brien, MD, FACC, has recently expanded his availability to five days a week at UHS Cardiology Norwich, and is on-call to address urgent cardiac needs. Patients have access to cardiovascular diagnostic testing options on the first floor of UHS Chenango Memorial Hospital. All three cardiologists, along with cardiac nurse practitioner Sue Button, MSN, ANP-BC, work closely with each patient's primary care provider.
"Demand has grown for nearby access to cardiac care in these communities," says Dr. O'Brien. "Being close to our patients helps us to evaluate and treat many problems that in the past required a long drive to Binghamton or Johnson City. Being on-site helps us prevent and detect cardiovascular problems at an early stage, and to spread crucial knowledge about maintaining cardiac health and prevention. And, when needed, we can consult with and refer our patients to the highly-skilled team of UHS cardiac specialists."
As a primary care physician in Walton, Michael J. Freeman, DO, MPH, MBA, has seen this need firsthand. He says his patients benefit from his collaboration with UHS cardiologists.
"There is nothing my patients have more concern about than their hearts," Dr. Freeman explains. "As a primary care physician, I'm the first in line to determine that my patients' concerns are heart-related, using a comprehensive screening panel. If the patient requires further reassurance or care, if they need follow-up after discharge from the hospital, or we need consultation on difficult-to-control cardiac risk factors such as high blood pressure, local access to a UHS cardiologist is invaluable."
Inpatient care is also enhanced at UHS Chenango Memorial Hospital. With Dr. O'Brien now on-site, full cardiac testing capabilities and specialized nursing care, the hospital is now able to care for more cardiac inpatients rather than transfer them to UHS Wilson Medical Center, says Dr. O'Brien. "We can now treat more seriously ill patients. Our nursing staff has responded wonderfully to the increased number of patients, with care and expertise," he says.
Cardiac Connection
Schedule an appointment with a nearby UHS cardiologist. In the Delaware County area, call 865-2400. In Chenango County, call 337-4215.