When Debbie Buglione found herself sidelined by a chronic medical condition, surgery was far from her mind. The hardworking Vestal resident was diagnosed with a fairly common problem for women—an enlarged uterus. The condition was accompanied by fibroids and by heavy menstrual bleeding. "It's something many women can relate to," she says. "It wasn't painful, but it was a big nuisance. It starts affecting your participation in things." And the problem was getting worse.
Ms. Buglione and her gynecologist, Dhruv Agneshwar, M.D., FACOG, of Santé Healthcare and a practicing OB/GYN at UHS, considered a range of treatment possibilities, including two types of ablation, a non-surgical removal of the uterine lining. But tests showed that neither was an option. She could wait for menopause, which often relieves the condition, but Ms. Buglione knew that could be years away. That left hysterectomy, which she had hoped to avoid.
"In my mind, hysterectomy was something pretty invasive. Not necessarily a bad experience, but a big deal and a last resort for me," she says. But that perception is one that Dr. Agneshwar, director of minimally invasive gynecologic surgery at UHS, was uniquely qualified to change.
Stepping Into the Future of Surgery
UHS physicians are at the forefront of a revolution in minimally invasive surgery (MIS). Minimally invasive means smaller incisions, little blood loss, less pain, and a shorter operation and recovery time as compared to more invasive procedures, Dr. Agneshwar explains.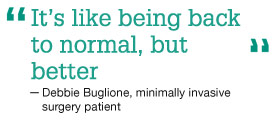 Last spring, UHS took a committed step in support of this patient-friendly trend when it opened the Ambulatory Surgery Center (ASC) at Wilson Place, on the campus of UHS Wilson Medical Center in Johnson City. The ASC features four surgical suites and 16 beds for pre- and post-operative care, a dedicated staff, anesthesiologists and the latest in high-tech equipment on-site.
MIS is particularly well-suited to the gynecologic surgeries Dr. Agneshwar performs, including removal of large ovarian cysts and fibroids, correction of urinary incontinence and hysterectomy. "If you have a benign [non-cancerous] gynecologic condition, there is little indication for having open surgery," he says.
Ms. Buglione considers herself lucky. Dr. Agneshwar is one of a handful of surgeons in New York State highly trained in techniques needed for minimally invasive gynecologic surgeries.
Not your mother's hysterectomy
Hysterectomy using minimally invasive techniques barely resembles traditional hysterectomy, says Dr. Agneshwar. It does not always involve removal of the cervix. Instead, the uterus is removed through tiny incisions in the abdomen using digital laparoscopic technology. Dr. Agneshwar also uses the harmonic scalpel, an ultrasound-powered precision cutting instrument that separates tissue and closes it simultaneously, keeping blood loss to a minimum. For Ms. Buglione, the surgery would be a one-day event, with no overnight stay.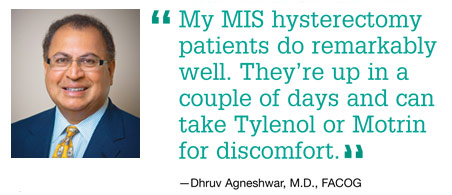 "The surgical time is usually about an hour," says Dr. Agneshwar. "The post-op stay is usually two hours, and then patients can go home. Home recovery is about one to two weeks, and the vast majority of patients return to work within two weeks." There are no major post-surgery restrictions on activity, mainly because there is almost no potential for hernia as there is with traditional surgery, he adds. "My MIS hysterectomy patients do remarkably well. They're up in a couple of days and can take Tylenol or Motrin for discomfort."
Back to Better
Ms. Buglione arrived at Wilson Place in the morning, was wheeled out of the procedure at 10:45 a.m. and was back at her nearby home by 12:30 p.m. She says she experienced minor discomfort and didn't feel groggy at all. "The anesthesiologist really listened to my concerns about how anesthesia can affect me. I didn't have any problems afterward."
She enjoyed the patient-centered care she received at the Ambulatory Surgery Center at Wilson Place. "It's a beautiful, modern building with a very low-stress environment," she says. "Everyone there is focused on the ambulatory patients."
Ms. Buglione was walking around her house within hours and in two weeks was back at her gym to gently ease into exercising again. The only drawback, she says, is that it was easy for her family to forget she'd just had surgery. "You really can't milk it," she laughs.
In two weeks, Ms. Buglione was completely back to her normal routine. No longer is her life regularly interrupted by an uncomfortable condition. A constant feeling of abdominal heaviness and the bleeding are gone. "I go to the gym, lift weights, walk with friends. We went to Florida as soon as I was able and played tennis and golf. It's like being back to normal, but better."
Surgery today. Home tonight.
With physician know-how, nursing compassion and the technology to back it up, ambulatory (same-day) procedures at UHS are an attractive option. All four UHS hospital campuses can provide this same-day convenience for many procedures.
UHS Wilson Medical Center, UHS Binghamton General Hospital and UHS Chenango Memorial Hospital offer patients a wide range of ambulatory surgical options from biopsy to carpal tunnel repair, as well as numerous non-surgical outpatient procedures. UHS Delaware Valley Hospital provides a smaller but convenient roster of ambulatory services, including endoscopy, transfusions, infusions, maintenance of central venous access devices and blood work (phlebotomy).
"Patients really benefit from these streamlined procedures," says UHS Chenango Memorial Hospital's Chunjie Yang, M.D.
Dr. Yang is a highly-trained general surgeon who expertly performs minimally invasive, same-day surgeries from hernia repair to gallbladder removal that no longer require an overnight stay. "With micro-technology and techniques, the benefits can be significant: reducing blood loss, surgery and recovery time," he explains. "Procedures that once required a three- or four-day hospital stay are now safely done in the morning with the patient back at home and resting by the afternoon."
IT'S IN THE DETAILS
Click here for a detailed list of ambulatory surgeries and procedures at UHS hospitals and what to expect during your visit.