Cardiac surgeons at UHS Wilson Medical Center can now examine beating hearts in three dimensions, in real time, evaluating how heart valves perform immediately before and after they are repaired or replaced. Surgeons are using the next generation of 3-D echocardiography in the operating room as a powerful imaging tool.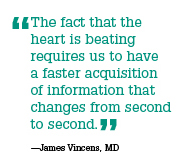 Earlier 3-D echocardiography required significant computer processing time, producing images that cardiologists had to wait for. This lag time limited the utility of the technology until recently, when instant imaging became available. The latest version of the technology uses trans-esophageal ultrasound to provide real-time images of the beating heart that the surgeon can evaluate immediately.
"The primary role of this technology is to better appreciate the abnormalities of the heart valves, especially the mitral valve. Sometimes these are fairly subtle and it's important to see what's wrong when the heart is beating," explains James Vincens, MD, a cardiologist with Cardiology Associates in Johnson City. "When the surgeon actually sees the valve, it's when the patient is on bypass and the heart is not beating. This technology gives the surgeon the opportunity to more clearly identify the problem with the valve and more accurately assess the function after it has been repaired."
IN A HEARTBEAT
To make an appointment with Dr. Vincens or his colleagues at Cardiology Associates, call 770-8600.