During a routine dental visit, Dara Russell told her dentist about an unusual bump on her gum. Thinking that it was something routine, her dentist recommended Ms. Russell see an oral surgeon for a root canal. The oral surgeon thought that the bump was most likely a benign cyst, the kind of thing he saw frequently. To be on the safe side, the oral surgeon sent a sample of the growth to a pathologist.
It turned out that the growth was, in fact, a cancerous tumor in Ms. Russell's gum and jaw. Ms. Russell's oral surgeon told her that this was something quite rare; a one-in-a-million occurrence.
As a jewelry designer, the rare things Ms. Russell was used to dealing with were gemstones. A cancer diagnosis, the treatment for which could be potentially disfiguring, was devastating. So at first, she avoided seeking any kind of treatment.
But eventually, Ms. Russell came to UHS for testing, where she met Ruth Manzer, RN, OCN, cancer nurse coordinator. Ms. Manzer worked with Ms. Russell to overcome her trepidation about undergoing surgery. Ms. Manzer had Ms. Russell select a Little Cotton Hugs quilt as a talisman to help her focus on healing, and now it has a place of honor in Ms. Russell's living room.
"I was home on the couch dying, emotionally and physically," says Ms. Russell of her time before coming to UHS Wilson Medical Center for her cancer care. "Ruth was integral to that process of healing."
Ultimately, Ms. Russell had her surgery. The tumor was removed, and some bone was taken from her hip to replace that taken from her jaw. "I was very lucky," says Ms. Russell. She experienced only mild numbness in her face and lip afterward, and has a barely visible scar along her jawline.
Since she completed treatment, Ms. Russell realized her dream of owning her own jewelry store. In June of this year, she passed her two-year survivorship milestone of being cancer-free.
COORDINATED SERVICE
Depending on the type of cancer, a patient may need additional services to complement their treatment plan. UHS nurse coordinators can put patients in touch with these services, available throughout the UHS service area:
Physical therapy will help improve motor control and balance, and address cancer-related fatigue.
Occupational therapy focuses on performing activities of daily life despite limitations the cancer or its treatment may have caused.
Nutritional counseling helps patients get the nutrients they need even if they are suffering from nausea, lack of appetite or changes in the sensation of taste.
Speech therapy helps restore speech function for head and neck cancer patients.
Lymphedema services help patients manage painful swelling that can occur when lymph nodes are removed.
Complementary therapies such as meditation help patients deal with the stress and side effects of treatment.
Home care provides an array of services including infusion, skilled nursing, medical supplies and equipment, and home therapies.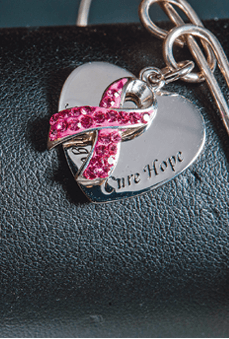 Help on the cancer journey
The cancer nurse coordinators in the UHS system take on a special role for cancer patients — they are there to help answer questions, to make connections with support services and to provide a contact point for services outside of UHS facilities.
Patients meet their coordinator in one of two ways: patients can self-refer or nurse coordinators learn about new patients from physicians.
According to Ms. Manzer, that first meeting with a patient after he or she receives the diagnosis needs to be handled with compassion. "It is not always a teachable moment," she says. "I ask them questions about their disease and treatment plan so that I know the level of their understanding. Then I can provide them with information they are lacking. I get to know who they are and what they like to do to help them develop coping mechanisms to use throughout their treatment process."
Melissa Gaska, RN, OCN, CBPN-IC, is the nurse coordinator at the UHS Breast Center in Vestal. She also helps new patients get a grip on what's ahead for them in the way of treatment, including surgical options and additional rounds of testing. Working with the patient's surgeon, Ms. Gaska shepherds patients through the various appointments and consultations necessary to create their treatment regimens.
"I will follow through with the patient and make sure she has received her results," says Ms. Gaska. "Then, as we work within the NCCN (National Comprehensive Cancer Network) guidelines, we try to move things along as quickly as possible — hopefully she can have surgery scheduled within 10 working days."
The caring continues
After surgery, a coordinator checks in again. If there are additional appointments, such as for radiation, chemotherapy or nutritional counseling, she explains what they are for. She checks to make sure that the patient will go, or if there are any barriers she can help remove. "I can help free up a patient's time so she can take care of herself," says Ms. Manzer. "No matter where you are in your life, cancer complicates things tremendously."
Even with all the help she provides, Ms. Manzer wants patients to maintain their sense of control over their lives. "There are things patients have to do for themselves to help them through the disease and treatment process," she says. To help that along, Ms. Manzer provides patients with a binder where they can write down their medications, appointments, questions or just how they are feeling.
And the caring doesn't stop once patients are cancer-free. Ms. Manzer and Ms. Gaska say that if patients agree, they will call to check in every six months or so to see how things are going.
"Despite the number of patients we treat, we treat each case personally. The patient's cancer care team recognizes a patient's background emotionally, physically and spiritually," says Ms. Gaska. "So much goes on behind the scenes, but we're pulling for them every step of the way."