Children can get too much sun anywhere — not just at the beach or pool — so they need protection from the sun's harmful ultraviolet rays whenever they're outdoors. Incorporate sun safety into a child's daily routine, and explain to them that sun exposure has a snowball effect — what they do now will have an impact on them in the future.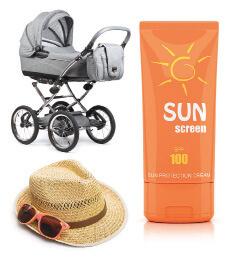 A few significant sunburns now can increase your child's risk of skin cancer later in life. Follow these sun safety tips to help protect your children.
Keep babies under 6 months old out of direct sunlight. Use an umbrella or stroller canopy when going for walks.
Rub a thick coat of sunscreen on children older than 6 months. Choose one that says "broad spectrum" and has an SPF of at least 15. Reapply often.
Dress your child for the sun. Use lightweight, long-sleeved shirts and long pants. Add a hat with a wide brim and sunglasses with UV protection.
Plan visits to the park, pool or beach for the early morning or late afternoon. Avoid being out when the sun is strong in the middle of the day.