Patients have a brand-new option for their primary care needs in Binghamton. In order to provide patients with the highest-quality care in state-of-the-art facilities, UHS relocated our Kirkwood primary care office to 160 Robinson Street in the Weis Market plaza.
UHS Primary Care Robinson Street began seeing patients in mid-March. Brenda Schlaen, MD, and Meghan Laing, NP are currently welcoming new patients and any of Dr. Schlaen's former patients from the Kirkwood office.
UHS Primary Care centers deliver basic diagnostic, treatment and preventive care in the most convenient way possible with same-day appointments and integrated services. Patients can expect the same great care at the Robinson Street office.
Primary Care Updates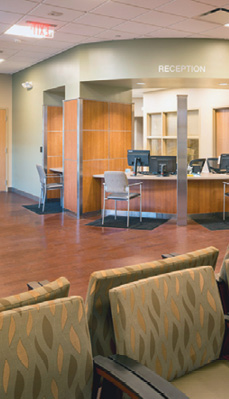 Convenient access to quality primary care helps you stay healthy. To better serve patients' needs, the Downsville and Roscoe Primary Care centers now offer walk-in services five days a week for easy and immediate access to urgent care.
Downsville
Monday: 8 a.m.–4:30 p.m.
Tuesday, Wednesday, Thursday:
8 a.m.–5 p.m.
Friday: 8 a.m.–12 p.m.
Roscoe
Monday, Tuesday, Thursday:
8:30 a.m.–5 p.m.
Wednesday: 8:30 a.m.–7 p.m.
Friday: 8 a.m.–12 p.m.
The Walton Primary Care site has also recently expanded with an addition that now offers an education and consultation room for patients, space for more specialty clinics, as well as a telehealth space. The site is currently undergoing renovation with completion expected early this summer.
Brand new
Robinson Street's new, state-of-the-art facility and central location are not only a significant upgrade from the Kirkwood office, it also represents an important move for UHS.
"UHS last had a presence on the East Side of Binghamton approximately 25 years ago, and had been looking for an appropriate site to reenter this important market in a meaningful way," says Alan Miller, MD, president of the UHS Medical Group. "A stronger presence in this market has been a priority for the UHS System."
Currently the Robinson Street office will be open from 8 a.m. to 5 p.m., Monday through Friday, with X-ray and lab services on site.
Next steps
UHS plans to add additional primary care providers to the Robinson Street location to advance its team-based care and services for patients, explains Dr. Miller. Team-based care features multiple providers including physicians, advanced-practice providers (APPs) and wellness coordinators who collaborate to provide individualized care for each patient.
To better meet patient demand and improve convenience, the Robinson Street office plans to expand its hours and services to include walk-in services in the future. Walk-in services are expected to begin in the fall and will be available seven days a week. Patients will also be able to use Clockwise.MD, an online scheduling system, for walk-in services once they are available.
CHECK IT OUT
To learn more about the new Robinson Street Primary Care location and its services, visit nyuhs.org.