Kyle Meese, a freshman at Union-Endicott High School, knew he was in trouble when he got hit hard in football practice. It was an early September practice after the first game of the season. "We were doing Oklahoma drills," he says, when he felt his collarbone break. "I was in shock at first."
Luckily, the football field is just steps from UHS Walk-in Endicott, where staff treated Kyle and assessed the damage. UHS Sports Medicine orthopedic surgeon Micah Lissy, MD, saw Kyle the next day, and surgery was planned for the following week. While the young athlete sat out the remainder of the season, quick action and skilled treatment by the UHS Sports Medicine team ensured that he will be good as new and ready for action come next football season.
Caring for the community
Athletes like Kyle look to sports medicine specialists to help them get back in the game. "UHS is dedicated to providing the community with an orthopedic and sports medicine center of excellence," says Danielle Donlin, director of the Sports Medicine Program.
To meet that goal, the team is building the sports medicine program and recruiting highly specialized physicians, surgeons, trainers and physical therapists who can assess, treat and create a cohesive plan for getting athletes and active individuals back in action.
While highly trained athletes obviously need sports-focused medical care, the "weekend warrior" can also benefit from a sports-trained physician's expertise. Additionally, people who are active at work or in their everyday life, or who stand, lift heavy objects or perform repetitive functions as part of their job are at risk for injuries in which sports doctors specialize. The UHS Sports Medicine team strives to serve these individuals — and get them back to their activity — just as they do with elite athletes.
Top docs
Primary care sports medicine doctor Luis Rodriguez, MD, joined the Binghamton-based sports medicine practice in May and enjoys employing a comprehensive approach to keeping athletes and active individuals healthy. Dr. Lissy, a former physical therapist and collegiate athletic trainer, joined the team in July after completing a sports fellowship in Detroit where he cared for the Red Wings, Pistons and Tigers, and has a healthy respect for the athletic mindset and keeping an athlete doing what he or she loves most. They join board-certified sports medicine doctors David Gallagher, MD, and Donald Nash, MD, at UHS Sports Medicine.
Oh, My Aching Knees!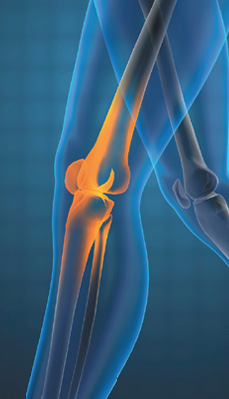 Knee problems are the most common reason for a visit to an orthopedic surgeon. The knee is a complex joint with many components, making it susceptible to a variety of injuries. Many athletes experience injuries to one of the major ligaments, such as the ACL (anterior cruciate ligament) or the MCL (medial collateral ligament), or to the meniscus (cartilage in the knee).
According to Dr. Lissy, any time there is significant swelling in the knee or if there is acute injury, there is damage that needs further evaluation by a sports doctor. "Don't wait," Dr. Lissy urges.
An injury that is not acute, such as a bruise, a ding to the knee or a strain, he says, may resolve with time and use of RICE (Rest, Ice, Compression, Elevation). "It's common for athletes to wait to seek treatment because they don't want to hear they have to stop what they're doing," he says. "But our goal in treatment is to find a way that we can keep them active and prevent further injury."
Dr. Rodriguez is dedicated to serving the community through outreach and building partnerships with area schools, teams, events and groups. As the team doctor for the Vestal Youth Football League (among other sports organizations), he uses his expertise and training to help educate parents and athletes on sports injuries, such as concussion. Both Dr. Rodriguez and Dr. Lissy's roles as team doctors for Binghamton University collegiate teams include holding sports medicine clinics twice weekly and treating athletes on-site. Further, monthly "grand rounds" — roundtable discussions where the whole UHS Sports Medicine provider team meets — are held to discuss the best treatment options for each individual.
In addition, part of the team's focus is on relationships with area schools, such as Union-Endicott, Binghamton University and SUNY Broome (to name a few), and community outreach. The team includes a staff of orthopedic subspecialists and physical therapists, as well as strong relationships with cardiologists and other physicians. Further outreach includes assistance at area events like golf or lacrosse tournaments, local marathons and other sporting events.
Getting back to activity
The main goal of each partner in the sports medicine program is to get active individuals back to their activity, job or sport. Kyle Meese isn't just cleared to play next season, he'll be returning with a cool steel plate and seven steel screws in his collarbone. He says he's almost back to normal and ready for action, just three months after his injury. "I can play touch football now, and I'm benching 150 pounds already. My parents were really happy with how everything turned out and happy to see me working out again," he says.
GIVE US A CALL
To learn more about sports medicine or to make an appointment with Dr. Rodriguez, Dr. Lissy or another sports medicine specialist, call 771-2220.